In this video, award-winning journalist Christopher Bryson examines one of the great secret narratives of the industrial era; how a grim workplace poison and the most damaging environmental pollutant of the cold war was added to our drinking water and toothpaste.
See Videos below ...
Fluoride can increase the risk of disorders affecting the teeth, bones, the brain, and the thyroid glands, according to Scientific American editors. Fluoride alters endocrine function, especially in the thyroid the gland that produces hormones regulating growth and metabolism.
- By Candice Wyatt - Updated Tue Feb 23, 2010 3:09pm AEDT
The Environment Protection Authority (EPA) says fluoride from Alcoa's aluminium smelter at Portland is making kangaroos sick.
The EPA's Bruce Dawson says the fluoride is being absorbed by the nearby vegetation which is then being eaten by the kangaroos.
He says the fluoride poisons the kangaroos and makes lesions grow on their bones, which renders them lame.
"Once kangaroos have restricted movement [it] has a significant impact on their welfare. So this is something that needs to be managed and avoided."
He says there is not a lot of information around about the impact of fluoride on kangaroos.
The problem is more common in cattle.
"There was a lot of research done in the 60s and 70s in the United States but this really has just started to emerge in terms of the impacts on kangaroos."
http://www.abc.net.au/news/stories/2010/02/23/2827687.htm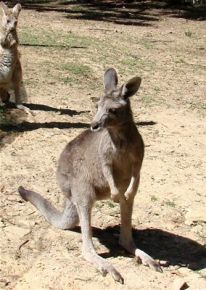 Photo: Fluoride from a nearby alumininum smelter is making Portland kangaroos ill. (ABC Local : Margaret Burin )
Alex Jones Tv: Kangaroos Poisoned by Fluoride
See also Smelter fluoride deforms kangaroos
Featuring a Nobel Laureate in Medicine, three scientists from the National Research Council's landmark review on fluoride, as well as dentists, medical doctors, and leading researchers in the field, this professionally-produced 28 minute DVD presents a powerful indictment of the water fluoridation program. To learn more and to purchase the DVD, see: http://www.fluoridealert.org
Professional Perspectives: Fluoride in Tap Water
Part of a new series of "Professional Perspectives" on Fluoride. In this short video, Dr. Bill Osmunson -- a general and cosmetic dentist -- explains why he is now concerned about fluoride and water fluoridation. To learn more about Dr. Osmunson's practice, see: http://www.smilesofbellevue.com
See More Videos Below ...
Today Tonight - Fluoride 25-3-2008
Some facts about fluoride.
Dr. Vyvyan Howard, President of the International Society of Doctors for the Environment, explains his concerns about water fluoridation. Dr. Howard is a medical toxico-pathologist who specializes in the impact of toxins on fetal and infant health. In this video, Dr. Howard discusses his concerns about fluoride's impact on infant health. To learn more, see: http://fluoridealert.org
This is what Lithgow Council is NOT going to tell you....
Read more: This is what Lithgow Council is NOT going to tell you....